Quantum and CatDV

Don't Settle; Accelerate and Scale
Confidently store, share, and retain your most important information with StorNext® Appliances.
Now you don't have to choose between the shared-storage benefits of NAS and the high-performance scalability of a SAN.
StorNext data management software gives you the best of both worlds. By combining efficient file sharing and data archiving with transparent tiered storage, you get unrivalled performance and scalability. And that helps customers like you keep moving your business forward by storing information rapidly, sharing it across platforms, and preserving it cost-effectively over time. Learn more about Quantum StorNext data management appliances and how it helps other customers accelerate their business at www.quantum.com/StorNext.
How it Works
CatDV and Quantum are a great choice for all your asset management and archiving needs .
QLS Archive brings you a tight integration with their Quantum Storage Manager Archive Additions Plug in for CatDV. It supports archive, purge (deletion of on-line files), backup (archive then purge) and retrieve operations for all media formats and types supported by CatDV. Comprehensive record keeping within CatDV of status from StorNext and reporting of detailed  archive statistics and health, keep you Quantum Certain with your storage and archiving.
The QLS Archive Plug In has 2 components:
Desktop Additions

The QLS Archive plug in provides the user with additional tools accessible within the desktop client. These are: StorNext Status, Archive to Stornext and Retrieve from StorNext. The menu additions are only given to the people that you nominate. When it comes to archive we do recommend that you put the responsibility of clip storage into knowledgeable hands to prevent multiple users putting through requests for clip retrieval.
The CatDV Archivist now has the tools to indicate the intention – whether that is archiving to tape, or retrieving from tape. They will change the file status of the clip they wish to action, which the worker will pick up and carry out the file movement …
Worker Additions: 
The Worker Node is used to carry out the file movement to StorNext so that it doesn't tie down the CatDV work station.
The QlS Archive integration uses the Worker Node to submit the request to archive, and the QLS plug in follows the request through various state changes to Quantum. The job is then handed over to Quantum to submit the files to storage. The clips go through a process of being on disk, on disk and tape, and then finally on tape alone.
For a completed archive we need to tape ID so we know exactly which tape houses our clips. QLS Archive make use of the status fields within CatDV to report what is going on within the archive process, and also report to barcode label ID within the status fields.
CatDV has the ability to show whether the media is online and playable, or is offline, so sent to archive. Therefore these status fields will allow any CatDV user to see why their clip is offline – where it has been sent to archive.
In these cases there may be a proxy available which can be played back, however the high def content has been sent to tape.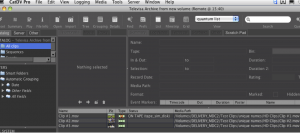 Benefits
seamless integration with both CatDV Media Asset Management and Quantum StorNext
saves time, reduces manual steps
automation minimises chance of manual errors so reduced mistakes vs manual mechanism or bespoke scripts
future proof – uses standard CatDV and StorNext features to ensure data is protected for the long term
proven solution – many successful implementations managing of thousands of assets
System Requirements
CatDV Enterprise Server on either mac or Windows
CatDV Worker 4 or above (compatible with Worker 6) running on mac OSX 10.6 or above
Stornext 4.2.1 or above
* We have also been working with lattice and cloud storage so we can report location, whether that is a tape or in the cloud. But primarily due to high speed of throughputs with Quantum Storage Manager we suggest working with LTO 5 and LTO 6 connected devices.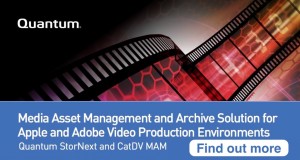 Input the main text content for your module here.