Cat TV: New CatDV with Telestream Vantage workflows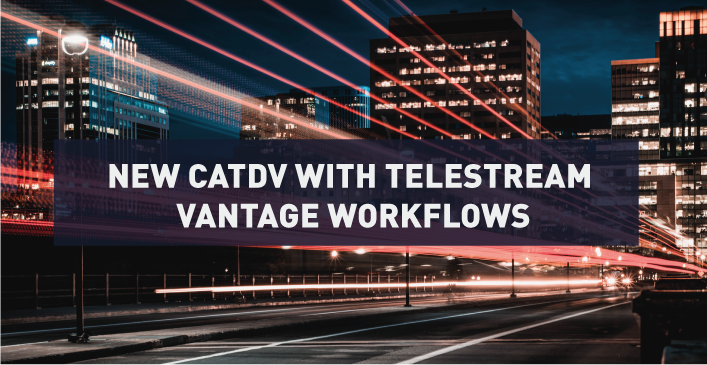 Join us and our partners at North Shore Automation to learn about the new Vantage Workflows now possbile in CatDV.
In addition to initiating Vantage actions and seeing status in CatDV, we'll show you how CatDV keeps track of which Vantage workflows have been used on specific assets – great for compliance and record keeping.
Plus see CatDV deliver a Vantage user dashboard for non technical users.
Thursday June 4th at 9am PT / 12pm ET
Click here to Sign up for our webinar to find out more.
Watch back now: CatDV and BackBlaze (May 2020)
Watch back now: Creative Collaboration with CatDV (May 2020)
Apologies for the audio quality throughout.
Watch back now: Customization with CatDV (May 2020)
Watch back now: CatDV's Project and Folder Creation Tool (April 2020)
SVG SportsTech On Demand: CatDV's Jeremy Strootman on MAM Platform's New Remote-Editorial Workflows (April 2020)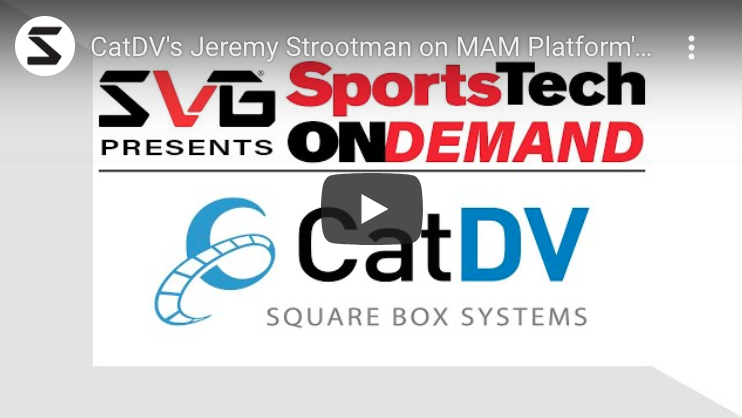 Watch back now:Home working and collaboration with CatDV (from April 2020)
Watch back now: CatDV new collaboration and automation tools  (from April 2020)
Watch back now: CatDV Announcements 2019  (from May 2019)
Watch back now: Scale and Resilience with CatDV  (from December 2018)
Watch back now: Creative Workflows with CatDV and Final Cut Pro X  (from November 2018)
Watch back now: Automate away your problems with CatDV Worker  (from October 2018)
Watch back now: CatDV AI Launch –  (from July 2018)
Watch back now: Spectra Logic and CatDV –  (from 28th June 2017)
Watch back now: NAB 2017 Highlights –  (from 17th May 2017)
Watch back now: Help Desk 101 –  (from 7th December 2016)
Watch back now:CatDV 12 Custom Workspaces –  (from 30th November 2016)
Watch back now:Building end to end Workflows in CatDV –  (from 16th November 2016 )
Watch back now: CatDV and GB Labs  (from 19th October 2016)
Watch back now: Protect your assets and streamline your archiving operations with CatDV and Xendata  (from 22nd September 2016)
Watch back now: IBC 2016 Highlights (from 21st September 2016)
Watch back now: All New – CatDV Pegasus Server (from 8th June 2016)
Watch back now: CatDV and Spectra Logic (from 1st June 2016)
Watch back now: NAB 2016 Highlights – All the latest CatDV Announcements (from 18th May 2016)
Watch back now: Metadata and Security Set Up 101 (from 10th February 2016)
Watch back now: Metadata and Security Set Up 101 (from 10th February 2016)
Watch back now: Power Up: CatDV Worker Node 101 (from 13th January 2016)
Watch back now: CatDV and Quantum integration technical training with QLS Archive (from 16th December 2015)
Watch back now: Safety measures: best practices for making sure your CatDV assets remain secure (From 9th December 2015)
Watch back now: Modern Media Asset Management with CatDV, Avere and Cleversafe (From 3rd December 2015)
Watch back now: CatDV, Archiware and QLS Archive (From 25th November 2015)
Watch back now: CatDV Server 7 and Web 2.1 (From 29th September 2015)
Watch back now: CatDV IBC Announcements (From 22nd September 2015)
Watch back now: CatDV and Akomi (From 2nd September 2015)
Watch back now: CatDV and Adobe Premiere (From 9 June 2015)
Watch back now: CatDV at Enterprise Scale (From 2 June 2015)
slide deck here
Watch back now: CatDV Worker 6 (From 29 May 2015)
Watch back now: CatDV and Archiware (From 21st May 2015)
Watch back now: CatDV and Quantum – Experience Quantum Certainty with Archive & Restore! (From 5th May 2015)
Watch back now: CatDV NAB Highlights (from 28th April 2015)
Watch back now:CatDV and Facilis – Go faster! Super-charge your MAM workflow. (from 26th March 2015)
Watch back now:CatDV and Xendata – Protect your assets (with a simple plug-in)! (from 17th March 2015)
Mass media communications…CatDV and Akomi (from 5th March 2015)
CatDV: STRETCH YOUR MEDIA'S WINGS – (from 17th February 2015)
CatDV and File Catalyst – 11th December 2014