An unbeatable combination
Akomi was specifically developed to extend CatDV. It's designed to help you share your CatDV assets to a large user base quickly and easily.
CatDV is a world class media asset management system, focused on bringing order and automation to your media creators. Its powerful Web Client allows you to share CatDV assets and catalogs with users quickly across your facility. But often IT restrictions or concerns prevent sharing the CatDV system outside the firewall. That's where CatDV and Akomi connect, to bring power and security together in one tightly integrated package.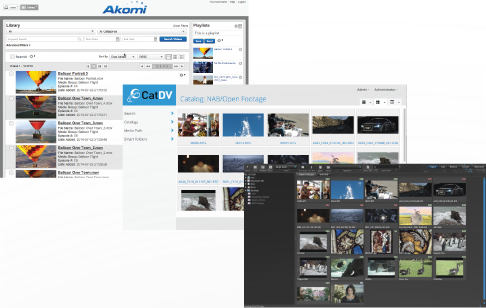 Akomi connects to your CatDV system so you can publish your assets into Akomi automatically. Users can view assets, enter metadata, comment and set markers in Akomi's easy to use interface and all their changes instantly write back to CatDV for retention and safe-keeping. Akomi allows you to leverage the web, while keeping your media in CatDV safe and perfectly synced.
With no per-user license fees, Akomi lets you share media without breaking the bank. Use CatDV's powerful features inside your organization or media team and simplify media access for less savvy users and those outside your network. Akomi helps make your DAM "Executive Resistant".
Akomi can be customized to present your brand's look and feel and themes are selectable per user. So if you have several divisions, brands, clients or departments, you can give each one their own customized style.
Akomi's customizability and ease of use, coupled with CatDV's power and flexibility make a truly unbeatable combination.
Akomi is exclusively available in the CatDV distribution channel.
You can find out more about Akomi here.
Watch our webinar back here: