Professional Services
If you have requirements that go beyond what is routinely offered as part of technical support, or you'd like to extend the capabilities of CatDV, you might be interested in our Professional Services offerings.
CatDV Professional Services can build new CatDV components and features, as well as help with custom deployment and configuration.
In addition to flexible, completely tailored services, we have packaged a number of our most frequently provided services into new 'products'. These are described below …
Integration And Configuration
CatDV provides a rich and powerful set of media management tools and has been designed to be as open and extensible as possible. We also provide detailed guidance and sample workflows in our Tutorials section of the web site.
At the same time, we recognise that not everyone has the time or skills in house to perform integrations themselves. Square Box Professional Services can therefore provide a high quality, custom solution, tailored to your precise needs , with all the advantages of a fully bespoke solution but for a fraction of the cost.
Sending and Receiving Content
Send to Youtube
Send to Vimeo
Send using FileCatalyst
Send to FTP
Pull content from Aspera
Push content to Aspera
Send expiring links to non CatDV users by email (requires available Web sessions)
Transcoding and Proxy Creation
Transcode with Telestream Episode
Create proxies from RED (RDM, RDC and R3D) footage
System Integration
Export XML in custom XML format
Update CatDV assets using XML from another system (requires Worker 6)
Automatic Ingest and Harvesting metadata
Automatic ingest, including proxy creation with CatDV, Episode, Compressor or Media Encoder
Extract metadata from file name and paths on ingest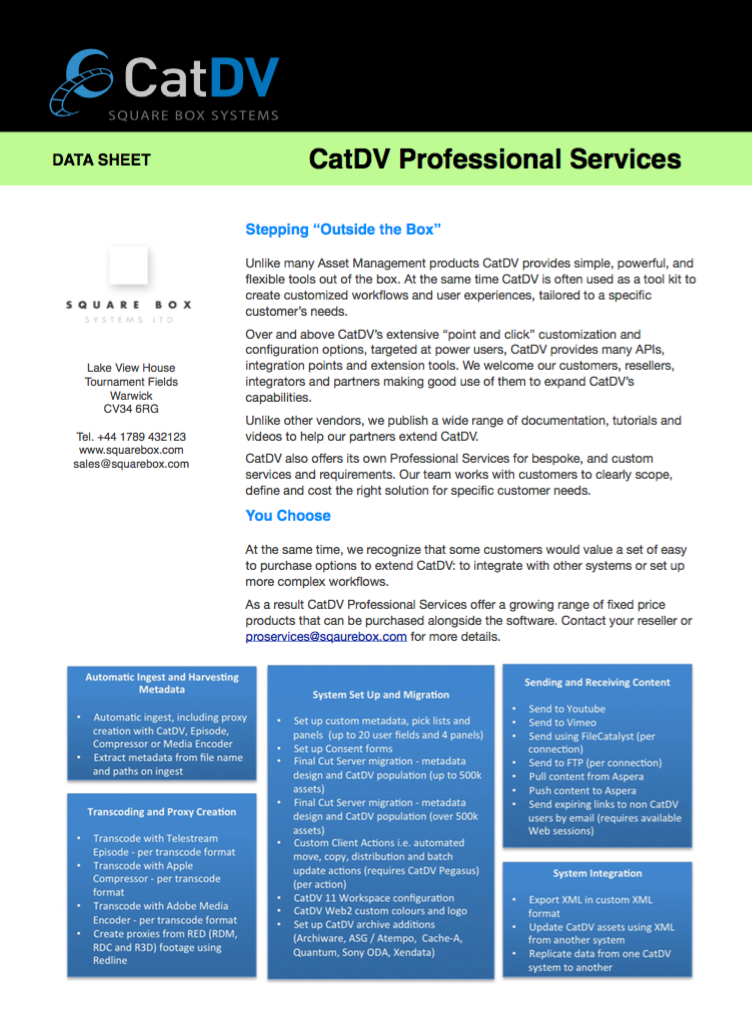 System Set Up
Worker configuration (including basic workflow design, regular expressions, metadata extraction rules, etc.)
Set up custom metadata, pick lists and panels
Set up Consent forms
Final Cut Server migration – metadata design and CatDV population
Final Cut Server – automation migration (scripts and triggers)
Custom Actions e.g. automated move, copy, distribution and batch update actions within the desktop client (requires CatDV Pegasus)
Customising desktop client Workspace configuration
CatDV Web2 custom colours and logo
CatDV Archive Set-Up
Set up CatDV archive additions (Archiware, ASG / Atempo, Cache-A, Quantum, Xendata)
For more information please contact sales@squarebox.com.
More complex requirements:
For more complex requirements, professional Services puts you in touch with our senior software developers and consultants who will work with you to solve any particular workflow problems you have and help you get the most out of the CatDV product family. To learn more or get a quote for a particular service please contact sales@squarebox.com.
Please note all professional services work falls under our terms of business contract which can be viewed here.