A front end to your SAN and archive
We like to think CatDV has a unique mix of flexibility, power, simplicity and cost. As a result there's no such thing as a typical deployment. This section describes some workflows that CatDV can easily support:
CatDV makes browsing the content of your storage a breeze whether on-line, off-line, near-line or archived. Searching media could previously have taken hours or days, with CatDV finding media takes seconds.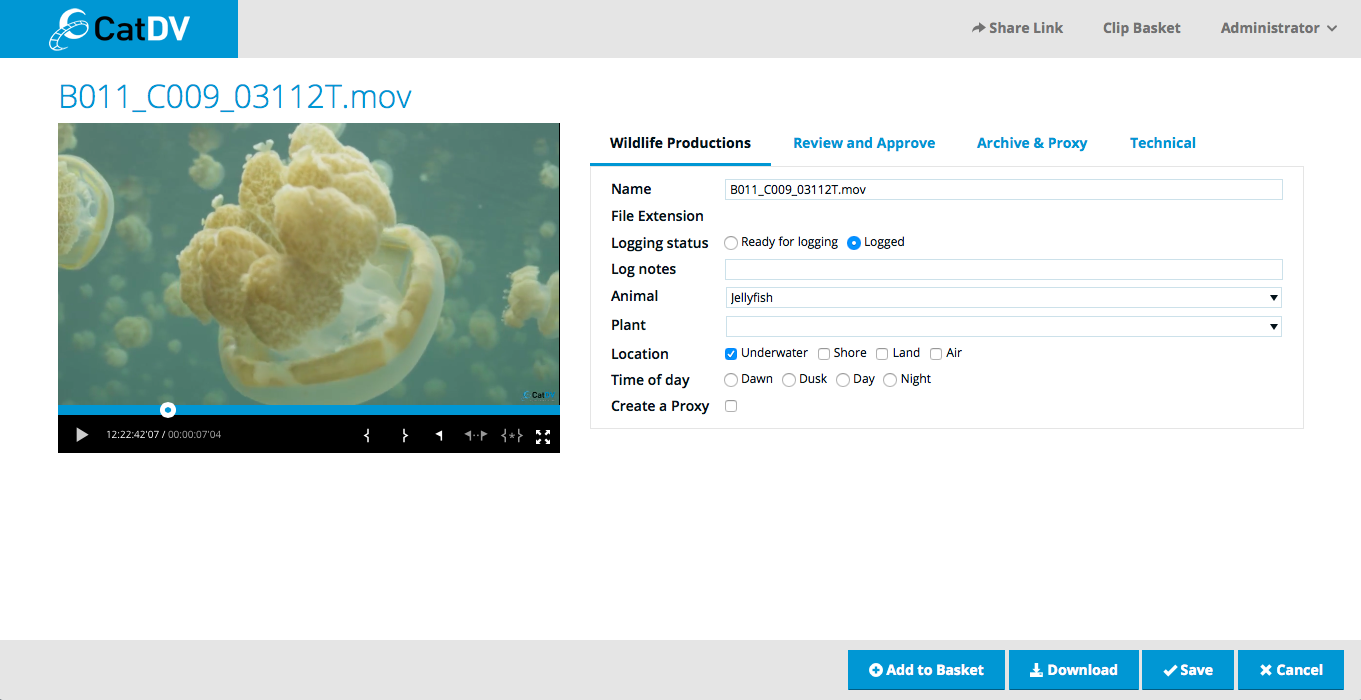 Logging & Tagging
CatDV's configurable Verbatim Logger is a fast and intuitive way of logging footage, even for new CatDV users. Notes, subclips, in and out points and markers can be created on the fly and playback controls are completely configurable. Flexible data types (radio buttons, check boxes, heirarchical lists) make the entry of even complex metadata fast.
Review and Approval
CatDV has been used on many prestigious products as a review and approval tool. Directorial review notes from screenings can be captured in CatDV and shared word-for-word with the post-production teams directly into the NLE or via CatDV clients (web or desktop). Editors, compositors, audio engineers and finishers can then update sequence notes to show that action has been taken. A recent, major TV production used CatDV for multiple levels of review from story boards through to playout and took advantage of the Production Blog and messaging tool. Take a look at this customer story for more details
Transcoding & Proxy Generation
With the plethora of cameras and format on the market today, to say nothing of user created content, transcoding is a critical issue for any organisation with lots of content. CatDV's has powerful transcode capabilities, both in the desktop clients and in the CatDV Worker (the automation engine). CatDV can also be configured to work with other hardware or software transcoders.
Production Management
Any production that intends to reuse footage has a media asset management challenge. CatDV's has helped many productions plan and track the status of their productions. Every element of the production can be tracked by CatDV providing an invaluable aid to planning whether on location or during post production. Knowing the timeplan, actual dates, status and owner for every asset makes productions faster and more efficient. Take a look at this 
customer story 
for more details
Video / Photo / Audio Archive
CatDV at its core is a powerful database for media assets. Any organisation that creates or commissions content for broadcast on any channel (TV, film, web, internal) will benefit from the ability to find and reuse content. There are a range of options available to share CatDV functions throughout organisations, from the powerful desktop client, through simpler web clients to completely tailored web interfaces using our flexible APIs. Take a look at this customer storyfor more details.
Print
A number of our customers use CatDV's print functions as part of their paper based review and approvals process. This is particularly relevant for stills libraries but is also been used for video using the filmstrip views.