Akomi is a simple web portal designed to share selected assets from your CatDV DAM system to a large audience of users, with minimal training and deployment.Akomi is designed to enable quick viewing, sharing and downloading of your assets by people inside and outside of your organization.
It's often a challenge to get less technical users to utilize an asset management system, so Akomi offers a simple interface so that anyone who's ever watched a web video can access your digital asset management system. There's no per-user license cost, so you can share to hundreds of users from a single Akomi server with no additional fees. Share assets with everyone.
Akomi is completely brand-able so you can maintain your organization's look and feel. The interface incorporates responsive web design so it is viewable on mobile, tablet and all modern browser platforms.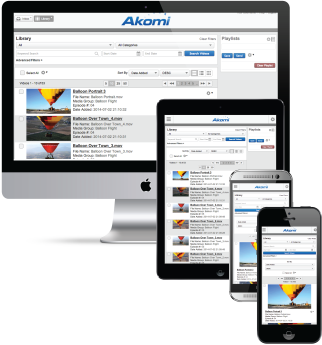 Host Akomi on your existing CatDV Server hardware, on a separate server in your own server room/data center, or scale it globally by hosting Akomi in Amazon or another cloud hosting environment. Since Akomi runs separately from your CatDV system, you can keep your DAM safely inside your firewall and let Akomi serve selected assets to the outside.
Akomi was designed to extend the reach of your CatDV investment. Reach out to your CatDV dealer today to arrange a demo of Akomi.
Visit North Shore Automation to find out more about Akomi.
Or there are tutorials, FAQs, and system requirements available on our website.