Newsletter Spring 2013
,

March 21, 2016

—
It's is an exciting time for Square Box Systems. We have just launched CatDV Pegasus: including Avid 2-way integration, CatDV web services: with sample search, approve, iPhone and iPad apps, simplified pricing and are fundamentally changing our support services: adding maintenance (including upgrades) and introducing dedicated support in North America.
CatDV Pegasus: Pegasus is a new, premium CatDV client. It builds on the foundation of CatDV Enterprise and includes built in support for MXF and archiving plus a brand new solution for integration with Avid Media Composer. It also includes metadata support for Red Epic files. Pegasus can co-exist with CatDV Enterprise clients and is available as a stand-alone product.
Web Services API: CatDV Server 6.8 exposes a web services API which enables web developers to create new user interfaces for CatDV. We are shipping with two template applications; a simple Search interface and a Review & Approval application to show the kind of interface that can be built. The interface was used during the London Paralympics to help distribute footage to global broadcasters. The API uses standard CatDV web client sessions and there is no extra charge for it (over the Web Client license). Square Box can help customers to build new front ends to CatDV, equally our integrators and customers are free to build them too. Server 6.8 is in public beta and available to download now.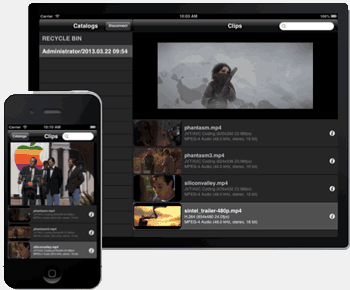 iPhone and iPad – simple Review and Approve. The iPhone and iPad applications use the Web Services API and will be in the App store (free of charge) shortly.
Server: simple, one click installation: Server 6.8 includes embedded database and web servers (MySQL, Oracle and SQL Server remain as alternative). This makes installations very much quicker and simpler, which will particularly benefit trial installations and proofs of concept, as well as smaller deployments. Server 6.8 is in public beta and is available to download now. CatDV 7/8/9 users will need to upgrade their server license to use the server 6.8.
Pricing Simplicity. We listened to feedback that the price list was too complicated and balanced the benefits of our upsell options  with the simplicity of single line SKUs. trade in pricing for upgrades between standalone, work group, enterprise and Pegasus solutions and made version upgrade pricing simpler through the introduction of maintenance services (including upgrades). The new price list is here <include link>
New Pricing Bundles: here are the new bundles that have been introduced.
Workgroup Bundle @ $1,695 has 1 CatDV Pro' seat, 4 Browse seats and a Workgroup Server. It provides a very low cost introduction to CatDV that is easy to upgrade as requirements grow.
Enterprise Bundles for 5 or 10 users, making purchasing common configurations simpler. These include CatDV Enterprise seats, CatDV Server, CatDV Worker, MXF Option and Archiving for all clients
Web Bundle with 10 user seats and 10 concurrent web sessions, extending the popular existing 2 and 5 seat Web Bundles
Pegasus Bundles combining Pegasus seats, Server, Web interface and Worker Node, making selection of a Pegasus system easier
All bundles are offered at discounts from their constituent products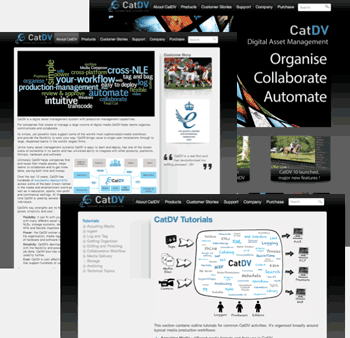 Maintenance Service Customers can now purchase rolling CatDV support with included upgrades. Priced at 25% of the new price per year customers can take advantage of all CatDV product upgrades while under maintenance. Generous terms are offered for customers wishing to transition into maintenance from current or older versions.
Support: Square Box Systems and our master distributor for the USA: JB&A are investing heavily in a new support model for North America. There will be dedicated CatDV support personnel located in the USA to better support customers and resellers, improved systems and staffing back at headquarters.
Training: we shall be running further CatDV training over the summer to ensure our resellers are fully equipped to sell and deliver CatDV solutions. We hope to see many of you in these training sessions ! Please let us or JB&A know and we'll get you booked in.
Many Smaller enhancements since CatDV 10 launch: including label printing, ability to import as proxy, support for multiple Cache-A library units, improved XDCAM, P2, TIFF and DPX handling and support for Canon XF formats
Web Site Square Box relaunched the CatDV web site www.squarebox.com earlier in the year. In addition to updates of product information we have new case studies and support information. The product manuals are on line and we have a new  'Tutorials ' section, that show how to use CatDV in different workflows. Please drop by and take a look!. We are always on the lookout for how we can improve the site or product, and every page requests feedback !