CatDV is used by some of the world's largest and most sophisticated organizations, across a wide variety of sectors. These customers choose CatDV, in part, because of its ability to support large and sophisticated workflows.
CatDV is well known for its 'out of the box' capabilities fulfilling many enterprise needs: a rich and growing feature set, support for multiple devices and deployment options, tailored user experiences for different users, workflow automation etc.
Enterprise requirements are more demanding: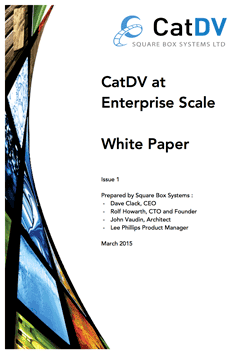 Safety: customers need confidence that their vendor partner is stable and financially secure, that the product is proven in the marketplace, that documentation is available and useful, plus that support will be there when it's needed. CatDV delivers against all these requirements.
Scale: With Worker 6, Server 7 and CatDV Professional Services, Millions of assets can be routinely managed. CatDV can also support distributed deployments at web scale.
Security and Resilience: CatDV Professional Services has a range of options that can satisfy the most demanding security and resilience requirements. Worker 6 can replicate subsets of media and CatDV metadata to other CatDV servers, databases can be mirrored, clustered, and replicated, and load can be balanced.
Reporting: The new CatDV Pegasus option adds a wealth of reporting options that enable sophisticated media usage and search analytics.
Integration and Extendability: CatDV has several, proven, accessible APIs that make integration with other systems easy. These include web services, Java, web services / REST, XML and Command Line Interfaces (CLI). We also have a range of archive middleware products from our partners, and fixed cost Professional Services Products for other common integrations: for example with Vantage, Episode, and Redline etc. 
Flexibility: CatDV supports end to end media requirements: CatDV 11 is production-oriented, and CatDV Web 2 shares assets company-wide. CatDV with Akomi distributes media to the very edges of the enterprise and beyond. 
We've created a paper discussing all these areas and more. Please contact us to discuss your needs and access our "CatDV at Enterprise Scale White Paper"
Or watch our webinar with CEO Dave Clack talking about CatDV at Enterprise Scale: