BROWSE CATDV SUPPORT MANUALS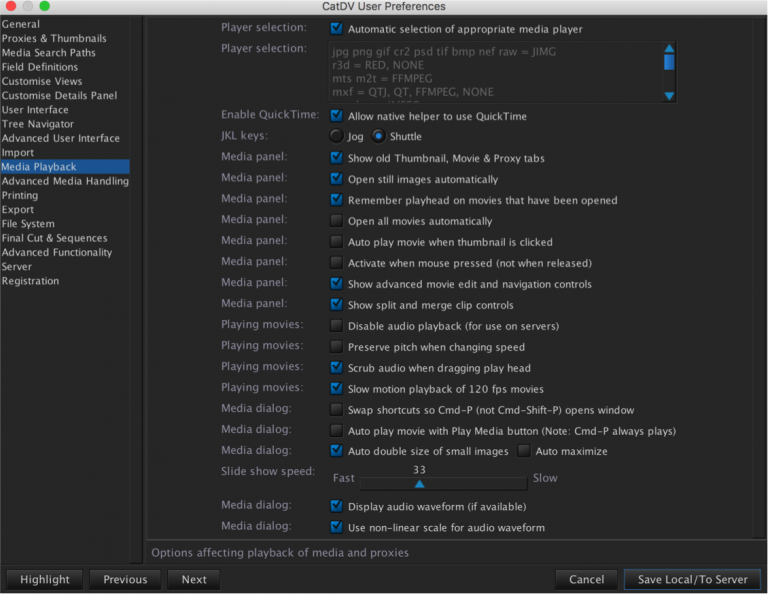 Playing Media
With this selected camera RAW files will be displayed using the built –in image viewer.
Playing Media
Here you can decide which media players to use with CatDV. Quicktime,Xuggle or JMF. Select which you would like to use – you must have the relevant software loaded.
Playing Media
Here you can decide which preference of media player you would like CatDV to play the media files back . Quicktime is the preferred option but you can select either to use Xuggle  or JMF. The recommended  setting is automatic.
Playing Media
You can select this option if you want quicktime, Xuggle and JMF players to have their separate alternative tab in the clip player view.
JKL Keys
CatDV supports JKL shortcuts and you can select whether these are  set to jog mode or shuttle.
Play Media Button
Select to autoplay movies – or deselect and press CMD P to auto play.
Auto Double
Automatically doubles the size of smaller images in the preview window.
Slide show speed
Vary the speed for slideshow presentations.
Playing Movies
Select Preserve pitch for playing movies – Pitch of audio will be maintained at higher speeds.
Playing Movies
Select to hear audio scrubbing when dragging play head
Media Dialogue
Select to display audio waveform
Media Dialogue
Select to use a non linear scale for audio waveform