Newsletter Autumn 2013
,

March 27, 2016

—
This is a busy year for Square Box Systems. We are announcing an
improved CatDV Web Client
and improved
cloud support
, plus the
CatDV Server API
(for 3rd party integration and to make it easy to extend CatDV's capabilities). In addition we have another new integration: with
Newtek's Tricaster
and
3Play
products, plus the addition of
consent form
functionality to CatDV.
We have also launched CatDV Pegasus (including Avid 2-way integration), iPhone and iPad apps for browse and review and approve workflows plus the CatDV Web Services API. In addition to improving our support services we have added CatDV maintenance (including major upgrades).
Here's a webinar discussing the new announcements.
[hozbreak]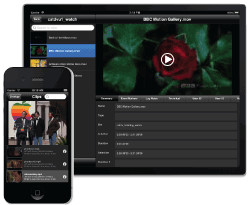 CatDV Web Client and Cloud Deployment The new CatDV web client includes a number of significant improvements providing even more deployment options including public and private cloud.
New functions include: upload and download of CatDV assets (hi-res and proxy), creation of cut lists / shot lists, sophisticated meta-data search, improvements to playback and marker handling. The rich (desktop) clients can now also use Web proxies in addition to LAN based proxies. Server plug-ins (using the CatDV Server API) are also supported in the Web Client (ie including the new consent form plug-in).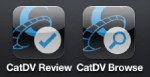 iPhone and iPad – CatDV Browse & CatDV Review Two new iPhone and iPad applications will be in the App store imminently.
CatDV Review provides a simple review and approve interface, whilst CatDV Browse lets users navigate through content and metadata in CatDV. The iOS applications use the Web Services API and requires at least one CatDV Web license to be available.

CatDV Pegasus Pegasus is a  premium CatDV client. It builds on the foundation of CatDV Enterprise and includes built in support for MXF and archiving plus a brand new solution for integration with Avid Media Composer. It also includes metadata support for Red Epic files. Pegasus can co-exist with CatDV Enterprise clients and is available as a stand-alone product. The product is available now.
CatDV Pegasus provides a complete Avid workflow solution within CatDV. Sequences, Master Clips and Subclips can be exported to Avid Media Composer from CatDV. The CatDV AAF Tool supports import of Avid created sequences, Master Clips and Subclips. Supported media is relinked within Avid media Composer. This means CatDV users can collaborate with Avid editors as never before, providing a full round trip of media and supported metadata.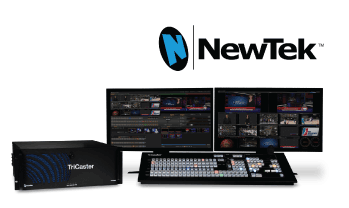 TriCaster and 3Play Integration We are excited about our new integration with Newtek's products. CatDV For TriCaster runs directly on the TriCaster platform and brings metadata management to this leading live Production and publication solution. Users can search the CatDV database and bring assets into the TriCaster for play out etc. The plug-in also operates with 3Play and is available as a free of charge update for all CatDV Web licensees.
Server API The CatDV Server API that can execute server programs and be controlled by both rich (desktop) and web clients. It is ideally suited to 3rd party integrations (for example archive solutions) and can extend core CatDV functions (i.e. the Consent Form plugin is built using the Server API ). At the same time Square Box is introducing an 'Approved for CatDV' certification scheme to ensure that companion products are reliable and have appropriate support in place.
Web Services API CatDV Server 6.8 exposes a RESTful web services API which enables web developers to create new user interfaces for CatDV. We are shipping with two template applications; a simple Search interface and a Review & Approval application to show the kind of interface that can be built. There is no extra charge to use the API (over the Web Client license). Square Box Professional Services can help customers to build new front ends to CatDV, equally our integrators and customers are free to build them too. It is available now.
Server 6.8: simple, one click installation Server 6.8 includes embedded database and web servers (MySQL, Oracle and SQL Server remain as alternative). This makes installations very much quicker and simpler. CatDV 7/8/9 users will need to upgrade their server license to use the server 6.8.
Maintenance Service Customers can now purchase rolling CatDV support with included, major upgrades. Customers can take advantage of all CatDV product upgrades while under maintenance. Attractive terms are offered for customers wishing to transition into maintenance.
Many Enhancements since CatDV 10 launch: including support for Adobe Premiere CC, label printing, ability to import as proxy, support for Cache-A library units, improved XDCAM, P2, TIFF and DPX handling, support for Canon XF formats, auto suggest fields in the rich (desktop) clients, voice over support, open directory support, database migration tools and proxy path management tools.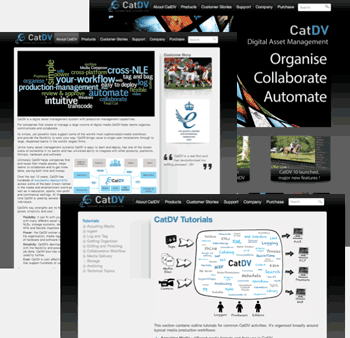 Web Resources Square Box relaunched the CatDV web site www.squarebox.com earlier in the year. In addition to updates of product information we have new case studies from JPL (NASA), Sportsmax, Thoroughbred Racing Productions, Canadian Tire, Crimson Tide and the University of Minnesota. There are also new workflow tutorials and support information.
Partners We are proud of CatDV's ability to integrate with a wide variety of third party products: Nexidia and CatDV have a new, dialog search integration. The Adobe Premiere Panel is proving popular.  CatDV is of course the best front end to a media SAN in existence and we are proud to work with products including Sony ODA, Catalyst, SNS, Storage DNA, Atempo, Quantum, Archiware, Xendata, Facilis, QStar, 1Beyond and Cache-A (among others).