CatDV Web Clients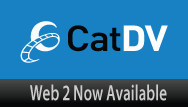 We believe that different users have different needs, so provide a variety of CatDV clients with different user experiences. These include rich desktop clients, accessible web & mobile front-ends, iOS apps, and apps that operate inside partner products (e.g. Adobe Premiere).
CatDV has several web interfaces:
CatDV Web Client 1 that mimics the traditional CatDV desktop clients, providing a familiar environment for desktop users.
CatDV Web 2 that delivers a simple and intuitive experience for users, typically outside content creation teams.
Custom web clients. CatDV has many API that enable our customers to build their own web applications if desired. CatDV Professional Services can also build or help in these projects.
CatDV Web 2
CatDV Web 2 helps organisations to find and reuse their media assets across the extended enterprise. CatDV has always been a fantastic tool for content creation, CatDV Web 2 extends CatDV's capabilities with a simple, intuitive and discoverable interface designed for users across an enterprise and across devices.
CatDV Web 2 boasts an impressive array of features: simple, yet powerful ingest & search, seamless inter-operation with the other CatDV tools, plus web based editorial capabilities – CatDV Web 2 is perfectly suited for mixed or entirely cloud-based deployments. The new CatDV Web Client extends access to the CatDV database to anybody with a web browser. There is no need to install special software on the desktop, making it easy to deploy to a large number of users.
Find out more here.
CatDV Web Client 1
CatDV's original web client is designed to mirror the desktop CatDV user experience. For more information see here.
Simple Licensing
Licensing for Web Clients is either Fixed (by users) or Floating (concurrent users), you can choose the most appropriate and cost effect approach for your business.
New for January 2015: CatDV Web Clients can now operate with the CatDV Workgroup Server as well as Enterprise Servers for smaller deployments